The iBreath could be a handy little gadget if you tend to drink too much and perhaps feel like driving home afterwards.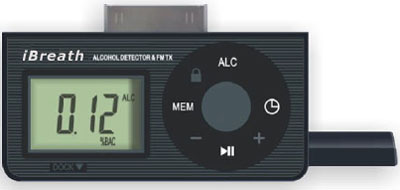 The iBreath fits into the dock of most iPods and feature a blow tube and a digital breathalyzer that will immediately tell you what your blood alcohol level is. How about listening to FM radio while checking your blood alcohol leve? Well, the iBreath allows you to do that as well.
Only problem now is actually bringing your iPod with you when  going out to party. I would be worrying about leaving or forgetting my iPod somewhere, so rather recommend a taxi or bus back home, and to keep the drinking at a reasonable level.
[ratings]