We can not guarantee that the Bill Clinton signed iPod Nano features any hidden top secret pictures from the oval office, or any secret recordings of Bill playing the saxophone, but you can still get this great collectors item at the auction held by the Gibson Foundation for Music Rising.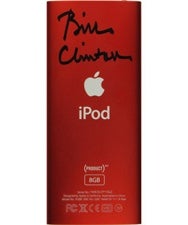 There are a number of celebrity iPod's being auctioned at the moment, with Bill Clinton's red signed iPod Nano being one of the top featured ones. The lucky buyer will not only get the signed iPod Nano but it also features some of Bill Clinton's favourite music, including "Brown eyed girl" by Van Morrison and Elton Johns "Philadelphia Freedom".
Considering the bid earlier today had reached $750 the addition of a $25 gift card to iTunes might seem a bit insignificant, but we never turn down a freebie. And who knows what else you might be able to include if your bid is high enough, perhaps a jam session with the sax master himself.
Personally, i would be more interested in bidding on Barack Obama's iPod because of the music on it.
[ratings]